4 hours snowmobile tour - Experience the Finnmark plateau and frozen lakes incl. lunch
Datum: Montag 1 feb 2021 - Mittwoch 7 Apr 2021
Karte anzeigen
Drive through varied landscape in the forest, over the wide white expanse and over frozen lakes up to the Finnmark Plateau.
Feel the thrill driving through varied landscape in the forest, over the wide white expanse and over frozen lakes up to the mountain plateau. Listen to the total silence when stopping on the plateau and experience the special and ever changing Arctic light during the winter time. Choose to drive your own snowmobile or share it with a friend.

The view is magnificent and the thrill of driving such a fun vehicle is exhilarating! Due to weather conditions the guide is free to choose the track and route on this safari. Lunch can be served at different places depending on the route of the day.

Before the tour starts the guide will give you driving and safety instructions. We start the tour outside the Igloo Hotel and follow the snowmobile trail through the forest and up to the vast covered Finnmark Plateau, one of Europes last wildreness areas. On the tour we might also see traces from wild animals.

Choose the number of snowmobiles you want and join us on a wonderful adventure. Two people can share the one snowmobile, or you can drive one each. Select this option in the next step of booking. Driver and passenger may switch places. Driver license for car is required for drivers of the snowmobiles.

Transfer must be booked extra, and can be booked on request.
Mehr anzeigen
Hotels
Entfernung: 342 Meter
Feel the silence in the hotel made of ice and snow. Explore the contrast between staying in the cold, while the cozy sleeping bag keeps you nice and warm during the whole night! Feel the silence and serenity surrounding you.
Hotels
Entfernung: 2,9 km
Stengelsegården is one of three fish lodges located along the Alta River, and the only one with road access. These walls are full of history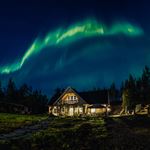 Motel und Pension
Entfernung: 3,3 km
Do you want to stay somewhere out of the ordinary? Here you have the opportunity. In september 2014 a brand new buliding was finished at our place. Here you`ll find a nice dining room and a cozy bed & breakfast. We have two spacious family rooms for rent (total 6 - 8 persons). Own bathroom for both rooms. We serve organic and homemade breakfast.