Tour de Finnmarksvidda (4 days)
Adresse: Jordfallet 3, 9518 9518
Karte anzeigen

Adresse: Jordfallet 3, 9518 9518

Join us on a four-day mountain biking trip where we choose some of the very best Finnmark can offer.

Never-ending beautiful nature, low rolling mountain plain landscape, rivers and lakes, cloudberries, Midnight Sun and reindeer! And not least wonderful single and double tracks leading to the traditional mountain lodges. On arrival at the lodge, we enjoy a relaxing sauna followed by good food accompanied by wine after hours on the bike seat!
The Finnmarksvidda mountain plain covers a huge area so we need to count on relatively long days of up to 6-7 hours including a lunch break, in at times demanding terrain. In brief, we need to cross a lot of stones, marshlands and many creeks. In general, this trip is suited for people who have ridden in such terrain before. On the Skill and Fitness – scale this is a S5/F6-tour.

Accommodation
Accommodation during the trip (day 1 to 3) is included in the tour price and will be in the cool Glam Lavvo at Holmen Husky in Alta, and at the Jotka Fjellstue (mountain cabin).

Meals
All meals during the trip (evening soup & bread day 1 to lunch on day 4) are included. Beer/wine and soft drinks are additional.

Bike and equipment
A full suspension bike is preferable, ideally a 29er. The tyres should have relatively thick tread pattern and reinforced sidewalls, a la Schwalbe Hans Dampf and Maxxis Ardent, with good volume like 2.2″ or more.

If you do not have a full suspension bike, but would like to try this trip, you may rent a suitable bike from us! Check out our bike rental page for more info!

Repairs and local guide
You will be joined on this adventure by a local cycling guide who has the main responsibility for safety and navigation. In addition to knowing the Finnmarksvidda mountain plain well after many trips there, the guide is also a technically competent mountain biker and can repair many of the eventualities that can occur on such an expedition. Our guides are also hobby gourmets and it is not out of the question that a delicacy or two will be prepared on an open fire at lunch time!

Support
You will have access to your personal bag every evening.

OffroadFinnmark edition
This is a special version that enables you to ride this year's OF300 route in the space of three days. The date is Sunday 16 to Tuesday 18 July.
Mehr anzeigen
Über diese Aktivität
Telefonnummer

Email

Stunden

Dates in 2018 June 15-17 25-28 July 13-15 (OffroadFinnmark – edition). This trip follows the 2018 route for the OF-300. August 9-12 September 6-9 27-30

Preisinformation

NOK 9,450 per person (in double room the first and second night) The tour price includes all transport, luggage support, guide, sauna, meals and accommodation. Rental bike NOK 500 per day Additional Extra night: NOK 625 per person including breakfast in Glam Lavvo at Holmen Husky Lodge (twin share) Dinner day 4: NOK 400

Links
Hotels
Entfernung: 3,6 km
Scandic Alta is a modern full service hotel in the center of Alta.
Hütten
Entfernung: 33 Meter
Turn your accommodation into an adventure! In our stylish Aurora Dome, you are so close to nature that you hear the squirrels and small birds outside and even see them through the big window.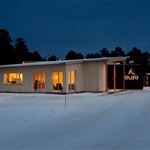 Zimmer & Wohnungen
Entfernung: 33 Meter
The new and modern apartment is ideal for anyone who would prefer quiet and peaceful days in the pine forest in the countryside rather than staying in the town centre. You can relax and unwind in a peaceful setting where life and the time keep the same pace.