Adresse: Nordelvdalen 170, 9517 Alta

At SarvesAlta you may choose among many different ways of playing in the snow. We also have a very cosy resturant where we offer homemade local food and drinks.
Mehr anzeigen
Hotels
Entfernung: 12,8 km
Scandic Alta is a modern full service hotel in the center of Alta.
Hotels
Entfernung: 19,7 km
Stengelsegården is one of three fish lodges located along the Alta River, and the only one with road access. These walls are full of history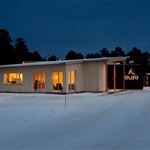 Zimmer & Wohnungen
Entfernung: 15,2 km
The new and modern apartment is ideal for anyone who would prefer quiet and peaceful days in the pine forest in the countryside rather than staying in the town centre. You can relax and unwind in a peaceful setting where life and the time keep the same pace.