Alpine Skiing under Arctic Light
Adresse: Nordelvdalen 170, 9517 Alta
Karte anzeigen
Adresse: Nordelvdalen 170, 9517 Alta

Enjoy skiing or snowboarding in or cosy familyfriendly winter park with slopes for everyone.
SarvesAlta Ski Resort is nestled in a beautiful setting overlooking the Alta Fjord and the valleys that surround the town. It`s a cosy and familyfriendly winter park that`s great for everyone, whatever your age ang fitnes level. Ski and snowboard down the slopes under the arctic sky. If you want to challenge yourself we have lots of rails. When it`s time for a break, recharge with refreshments in our cafè or at Bjørnehiet on top.
Mehr anzeigen
Hotels
Entfernung: 12,7 km
Scandic Alta is a modern full service hotel in the center of Alta.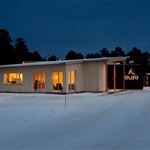 Zimmer & Wohnungen
Entfernung: 15,2 km
The new and modern apartment is ideal for anyone who would prefer quiet and peaceful days in the pine forest in the countryside rather than staying in the town centre. You can relax and unwind in a peaceful setting where life and the time keep the same pace.
Hotels
Entfernung: 19,7 km
Stengelsegården is one of three fish lodges located along the Alta River, and the only one with road access. These walls are full of history