Join us in the hunt for the Northern Lights! Our experienced Northern Lights hunter will bring you along, leaving the light pollution of the city, into the areas where the probability for spotting the Northern Lights are the best.
We pick you up at your hotel and spend the night chasing the Northern Lights. Hot beverages and snacks included in price. Photo and camera instruction. The journey will last 5 hours (+1 if needed).
BASECAMP - If the weather permits, we will drive to our basecamp approx. 20 minute' drive from the town center. We have a couple of warm slate-cottages where we can wait for the Northern Lights in comfort.
At Pæskatun our guide will introduce the unique Northern Lights history of Alta, and give a presentation about the phenomenon of the Northern Lights. Toilets and telescopes at Pæskatun.
Mehr anzeigen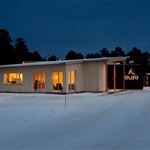 Zimmer & Wohnungen
Entfernung: 9,3 km
The new and modern apartment is ideal for anyone who would prefer quiet and peaceful days in the pine forest in the countryside rather than staying in the town centre. You can relax and unwind in a peaceful setting where life and the time keep the same pace.
Hotels
Entfernung: 3,7 km
Feel the silence in the hotel made of ice and snow. Explore the contrast between staying in the cold, while the cozy sleeping bag keeps you nice and warm during the whole night! Feel the silence and serenity surrounding you.
Hotels
Entfernung: 3,9 km
Stengelsegården is one of three fish lodges located along the Alta River, and the only one with road access. These walls are full of history