Explore the scenic view from the old road along Alta river, starting from Gargia mountain lodge.
The Alta river is famous for its salmon fishing, and the canyon it flows through is the biggest in Europe. Enjoy the view and the sounds as we explore the area. Along the way we make a campfire and enjoy a warm meal.

Duration of this trip is 2,5 hours
Meeting point at Gargia Mountain Lodge, pickup on request.
Departure time and place: 09:00 from Gargia Mountain lodge
Included: Expert guide, a hot meal and hot drinks
Level of difficulty: Easy
Number of participants: 2-15
Mehr anzeigen
Hotels
Entfernung: 9,4 km
Stengelsegården is one of three fish lodges located along the Alta River, and the only one with road access. These walls are full of history
Hotels
Entfernung: 378 Meter
Scandic Alta is a modern full service hotel in the center of Alta.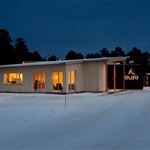 Zimmer & Wohnungen
Entfernung: 4 km
The new and modern apartment is ideal for anyone who would prefer quiet and peaceful days in the pine forest in the countryside rather than staying in the town centre. You can relax and unwind in a peaceful setting where life and the time keep the same pace.