Hunting the northern lights with dog-sledge trip in Norwegian-Russian borderland including dinner
Hunting the northern lights with dog-sledge trip in Norwegian-Russian borderland including dinner
Adresse: 9900 Kirkenes
Karte anzeigen

Adresse: 9900 Kirkenes

Guided tour into the Pasvik valley. Arriving at our kennel we will hand out snow suits/winter clothing to those of you who need it.
We then go down into the kennel and get the introduction to our dogs before we go out by dog sledges into the "polar night". If we have good conditions, you will see the northern lights dance across the sky as we travel along the border between Norway and Russia - an exotic adventure in an Arctic climate. We end the trip with a delicious meal made from local ingredients, the dinner is served in a Sami lavvu.

Includes
-transportation from Kirkenes 
-guiding 
-warm clothing with shoes, hat and gloves 
-dinner 
Mehr anzeigen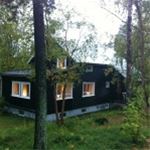 Motel und Pension
Entfernung: 37,1 km
Cozy guesthouse with 7 rooms, connected to our husky kennel and two wilderness restaurants. Single, twin, double and family rooms available. All rooms are different and has its own character.