Schneemobil Safari Mehamn zu den Alpen von Lyngen (4-5 Tage) - Nordic Safari
Adresse: 9770 Mehamn
Karte anzeigen
Adresse: 9770 Mehamn

Herzlich Willkommen zur unvergesslichen Expedition in der extremsten und aufregensten Natur auf dem eurpäischen Kontinent.
Schneemobil Pfade die atemberaubende Panoramas durchqueren, die entlang hoher Berge, tiefer Schluchten und an den Küsten des klaren blauen arktischen Meerwassers entlang führen. Dazu geniessen Sie lokale Spezialitäten in einer gemütlichen Atmosphäre. All diese aufregenden Abendteuer werden präsentiert und geleitet von Vidar dem Vikinger! Ein lokaler Norweger der in Mehamn, dem nördlichsten Fischerdorf der Welt lebt.



Finde das detaillierte Programm für diese Safari
unterhttp://www.nordicsafari.no
oder direkter Link
http://www.nordicsafari.no/documents/COAST_OF_FINNMARK_ALPS_OF_LYNGEN.pdf
Show more
Hütten
Entfernung: 19,2 km
Welcome all travelling friends to a comfortable stay at the Davvi Siida - the camp in north. We offer two cottages, suitable for up to 3 and 5 persons.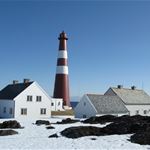 Übernachtung
Entfernung: 14,6 km
The world's northernmost mainland lighthouse was built in 1905, destroyed in 1944 and rebuilt in 1945-48. Situated on a vast coastal plain between the Barents Sea and the mountains, Slettnes is a fascinating place to visit for lovers of scenery, wildlife, history and the brute forces of nature. Little has changed since the lighthouse keepers and their families lived here. The standard is simple, and bathrooms are shared. Extra beds (max. 2 pr. room) are available for children. Children younger than 3 years stay for free. Please note that check-out is at 11:00 and that check-in is open until 18:00. If you will arrive or leave at other times, please let us know well in advance.