Schneemobil Safari Finnland - Norwegen (3 Tage) - Nordic Safari
Adresse: 9770 Mehamn
Karte anzeigen

Adresse: 9770 Mehamn

Welcome to an unforgettable expedition to the most extreme and exciting nature area of the European continent.
Snowmobile trails that crosses breathtaking panoramas you cannot even imagine. High mountains, deep canyons and clear blue arctic
sea water when driving along the Norwegian fjords. Excellent food based on local traditions in maritime environment. All these
exciting adventures presented and guided by Vidar the Viking, local Norwegian guide living in Mehamn, the Northernmost fishing
village of the world.

Find the detailed PDF program for this safari on:
http://www.nordicsafari.no
or direct link
http://www.nordicsafari.no/documents/FINLAND%20-%20NORWAY%20%20EXPEDITION.pdf
Mehr anzeigen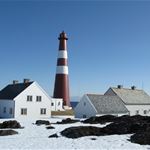 Übernachtung
Entfernung: 14,6 km
The world's northernmost mainland lighthouse was built in 1905, destroyed in 1944 and rebuilt in 1945-48. Situated on a vast coastal plain between the Barents Sea and the mountains, Slettnes is a fascinating place to visit for lovers of scenery, wildlife, history and the brute forces of nature. Little has changed since the lighthouse keepers and their families lived here. The standard is simple, and bathrooms are shared. Extra beds (max. 2 pr. room) are available for children. Children younger than 3 years stay for free. Please note that check-out is at 11:00 and that check-in is open until 18:00. If you will arrive or leave at other times, please let us know well in advance.
Hütten
Entfernung: 19,2 km
Welcome all travelling friends to a comfortable stay at the Davvi Siida - the camp in north. We offer two cottages, suitable for up to 3 and 5 persons.