Abendlicher Ausflug mit dem Hundeschlitten in Regie von Northern Lights Husky
Adresse: Gargiaveien 29, 9518 Alta
Karte anzeigen
Adresse: Gargiaveien 29, 9518 Alta

Bereiten Sie Ihr eigenes Hundeschlittengespann vor. Wir geben Ihnen die nötige Einweisung und das Vertrauen, um es Ihnen zu ermöglichen.
Fahrt unter dem Sternenhimmel in der Hoffnug, das Nordlicht zu sehen. Abschluss am Lagerfeuer mit Geschichten von Rennen, an denen wir teilgenommen haben, und Näherem darüber, wie wir unsere Hunde trainieren, beides begleitet von hausgemachtem Kuchen und etwas Warmem zum Trinken. Herzlich willkommen!
Show more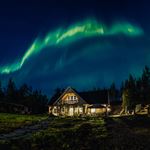 Motel und Pension
Entfernung: 30 Meter
Do you want to stay somewhere out of the ordinary? Here you have the opportunity. In september 2014 a brand new buliding was finished at our place. Here you`ll find a nice dining room and a cozy bed & breakfast. We have two spacious family rooms for rent (total 6 - 8 persons). Own bathroom for both rooms. We serve organic and homemade breakfast.
Hotels
Entfernung: 435 Meter
Stengelsegården is one of three fish lodges located along the Alta River, and the only one with road access. These walls are full of history
Hotels
Entfernung: 3,6 km
Feel the silence in the hotel made of ice and snow. Explore the contrast between staying in the cold, while the cozy sleeping bag keeps you nice and warm during the whole night! Feel the silence and serenity surrounding you.