Northern Lights Husky
Adresse: Gargiaveien 29, 9518 Alta
Karte anzeigen
Adresse: Gargiaveien 29, 9518 Alta

With us at Northern Lights Husky you feel you are part of the team.You learn much about sled dog and dog mushing.
After some instructions and getting the list of names for yourdog team, you are responsible for getting the team ready for your tour. We are very proud of what our guest are able to do by them selves.
Friendly dogs, clean dog yard and hosts that invite you to their home.
Mehr anzeigen
Hotels
Entfernung: 3,6 km
Feel the silence in the hotel made of ice and snow. Explore the contrast between staying in the cold, while the cozy sleeping bag keeps you nice and warm during the whole night! Feel the silence and serenity surrounding you.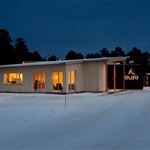 Zimmer & Wohnungen
Entfernung: 5,4 km
The new and modern apartment is ideal for anyone who would prefer quiet and peaceful days in the pine forest in the countryside rather than staying in the town centre. You can relax and unwind in a peaceful setting where life and the time keep the same pace.
Hotels
Entfernung: 435 Meter
Stengelsegården is one of three fish lodges located along the Alta River, and the only one with road access. These walls are full of history