Adresse: 9770 Mehamn

Welcome on board to a totally new way of exploring the Norwegian Fjords!
Drive your own speed boat on a fjord safari together with our local guide that follows you in a larger security boat.
This is a spectacular, amazing nature adventure as you drive your own boat in and out the numerous fjords of the Nordkyn peninsula!
Seals, sea eagle, dolphins, and whales is animals you can see in addition to a rough arctic nature surrounding the fjords.
A fast going adventure!
We offer tours from half a day to several days!
Mehr anzeigen
Hütten
Entfernung: 19,2 km
Welcome all travelling friends to a comfortable stay at the Davvi Siida - the camp in north. We offer two cottages, suitable for up to 3 and 5 persons.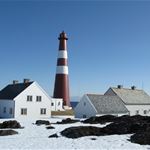 Übernachtung
Entfernung: 14,6 km
The world's northernmost mainland lighthouse was built in 1905, destroyed in 1944 and rebuilt in 1945-48. Situated on a vast coastal plain between the Barents Sea and the mountains, Slettnes is a fascinating place to visit for lovers of scenery, wildlife, history and the brute forces of nature. Little has changed since the lighthouse keepers and their families lived here. The standard is simple, and bathrooms are shared. Extra beds (max. 2 pr. room) are available for children. Children younger than 3 years stay for free. Please note that check-out is at 11:00 and that check-in is open until 18:00. If you will arrive or leave at other times, please let us know well in advance.