Exclusive daytrip with dog sleds in the Norwegian-Russian borderlands. We go out on tour, two people each sled. We stop along the way and change so that everyone can have a go as a musher.
We make a campfire along the way and prepare a meal over open flames. If weather does not permit this we serve lunch in our lavvu after the trip. Duration: 6 to 8 hours.

Pick up in Kirkenes. A guided tour into the Pasvik valley, stories about the valley and our life on the way to our little oasis approx. 50 minutes from Kirkenes. Pasvikdalen have the largest bear population. We run partially along the Pasvik river, the border river which divides Norway and Russia. Preparations are given on the actual dog driving. We serve coffee / tea and lunch around a campfire in the woods or in our lavvu, connected to our kennel, depending on weather conditions.

Included:
- Two guests share one dog sled - one running it and one sitting on the sled. Please notify during booking if you do not want to drive your own dog sled. If you want to run your own sled alone this must be booked in advance.
- Warm winter clothing with snowmobile suits, shoes, hats and gloves. We recommend that you already wear one layer or two with wool before arrival.
- Coffee / tea and lunch menu is set. If you have special dietary requirements / allergies - please notify us of this during booking.
- Transfer Kirkenes / Melkefoss - with return, directly adjacent to the trip.

Minimum of 2 and maximum of 8 guests per trip.
Mehr anzeigen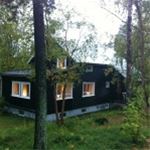 Motel und Pension
Entfernung: 35 km
Cozy guesthouse with 7 rooms, connected to our husky kennel and two wilderness restaurants. Single, twin, double and family rooms available. All rooms are different and has its own character.