Experience arctic nature with dog sleds and powerful scenery. Join a guided tour into the Pasvik valley. Choose between 1 overnight stay or a weekend in Pasvik!
On all our overnight trips two guests share one dog sled - one running it and one sitting on the sled - switching as we go along. You will get the training necessary to run our dogs. During the tour you will be responsible for your assigned dog sled. First day we cover a distance of 10 to 18 km, depending on weather conditions. We return to our wilderness cabin and base - Myrbekkoia - every afternoon.

Myrbekkoia is not powered by electricity or running water. We have two wood stoves and candle lights. We must carry in water to both cabin and sauna - we see it as natural that our guests helps with this work.

We will prepare food for you during your stay and use local ingridients, such as venison, fish from the river of Pasvik and berries gathered in the local area. We have no tradition of vegetarian dishes in Finnmark, it is therefore important that we get to know about special dietary requirements during booking.
Mehr anzeigen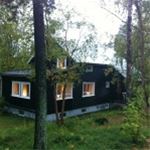 Motel und Pension
Entfernung: 37,4 km
Cozy guesthouse with 7 rooms, connected to our husky kennel and two wilderness restaurants. Single, twin, double and family rooms available. All rooms are different and has its own character.