Walking with the puppies / Trasti og Trine
Adresse: Gargiaveien 29 , 9518 Alta
Karte anzeigen
Adresse: Gargiaveien 29 , 9518 Alta

Imagine you have only lived in this world for a few weeks or months. Everything is new and exciting. There are new smells, new challenges and new experiences everywhere you go. Imagine also that you have many siblings who are equally curious and energetic.
Join us for a walk and experience first-hand the enthusiasm
and the joy of life of the husky puppies.

We start with the brief tour of the dog enclosure and you will also have a chance to meet and greet the adult dogs. We walk through pleasant pine forest down to the Alta River. We adapt the length and tempo to suit the participants. Choosing a route that enables you to bring a pushchair is also an option.

We stop along the way and light a fire and relax with a cup of tea/coffee and a slice of homemade cake. Your guide will explain about the life that awaits the puppies and stories about what it's like train, work with and compete with huskies.
Mehr anzeigen
Über diese Aktivität
Telefonnummer Reservierung
Hotels
Entfernung: 3,6 km
Feel the silence in the hotel made of ice and snow. Explore the contrast between staying in the cold, while the cozy sleeping bag keeps you nice and warm during the whole night! Feel the silence and serenity surrounding you.
Hotels
Entfernung: 466 Meter
Stengelsegården is one of three fish lodges located along the Alta River, and the only one with road access. These walls are full of history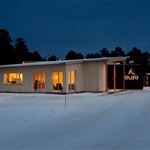 Zimmer & Wohnungen
Entfernung: 5,4 km
The new and modern apartment is ideal for anyone who would prefer quiet and peaceful days in the pine forest in the countryside rather than staying in the town centre. You can relax and unwind in a peaceful setting where life and the time keep the same pace.