Hütten | Welcome all travelling friends to a comfortable stay at the Davvi Siida - the camp in north. We offer two cottages, suitable for up to 3 and 5 persons.
The cottages are fully furnished, both with all kitchen utensils and a refrigerator. The cottages are equipped with shower and toilet.

The cottages are a part of the Davvi Siida. There is a reception area and a Sami arts & crafts shop nearby.

Davvi Siida is a part of the Sami culture and reindeer herding.

In the month of April, the Sami herders drive their reindeer from the inland to the coast, where they have their summer grazing grounds. The calves are born in May, and while they are very young the herds tend to stay away from roads and populated areas. But the Nordkyn reindeer population reaches 5000 in the summer, and during this time they roam in small herds all over the peninsula - often visible from the roads. In September/October, the Sami round up the herds and start the trek toward winter grazing close to the Finnish border, a trip of about 200km (130 miles).
Kontaktinformationen
Telefonnummer Reservierung
"Davvi Siida Lodge" mit ähnlichen Alternativen vergleichen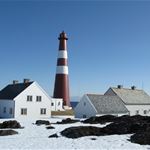 The world's northernmost mainland lighthouse was built in 1905, destroyed in 1944 and rebuilt in 1945-48. Situated on a vast coastal plain between the Barents Sea and the mountains, Slettnes is a fascinating place to visit for lovers of scenery, wildlife, history and the brute forces of nature. Little has changed since the lighthouse keepers and their families lived here. The standard is simple, and bathrooms are shared. Extra beds (max. 2 pr. room) are available for children. Children younger than 3 years stay for free. Please note that check-out is at 11:00 and that check-in is open until 18:00. If you will arrive or leave at other times, please let us know well in advance.