Davvi Siida Lodge
Address

: Finngamvannet, 9790 Kjøllefjord
show map
Location: Kjøllefjord
Cabin | Welcome all travelling friends to a comfortable stay at the Davvi Siida - the camp in north. We offer two cottages, suitable for up to 3 and 5 persons.
Family Utsi at Davvi Siida gives you warm and personal accommodation in cabins, inspired by our Sami lifestyle and has a special charm

Davvi Siida Lodge is situated 8 km outside of Kjøllefjord.
Come alone or bring your family, friends, partners, your special guests, your board or leader group. Welcome to have a nice stay at our place

LULLI (means south in the Sami language).
Big cabin. With two bedrooms, four single beds, as you easy can have as two double bed
Equipped with kitchen and sitting room together, toilet (shared shower).

DAVVI (means north in the Sami language).
Small cabin, 1 bed 1,20 cm and 1. bunk bed 75cm. Equipped with kitchen and sitting room together, toilet (shared shower).

When you book a pitch at Davvi Siida, it includes electricity, water, and access to the service building with kitchen facilities, toilets, showers and sauna.
Compare "Davvi Siida Lodge" with similar alternatives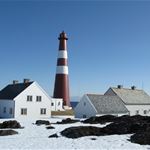 The world's northernmost mainland lighthouse was built in 1905, destroyed in 1944 and rebuilt in 1945-48. Situated on a vast coastal plain between the Barents Sea and the mountains, Slettnes is a fascinating place to visit for lovers of scenery, wildlife, history and the brute forces of nature. Little has changed since the lighthouse keepers and their families lived here. The standard is simple, and bathrooms are shared. Extra beds (max. 2 pr. room) are available for children. Children younger than 3 years stay for free. Please note that check-out is at 11:00 and that check-in is open until 18:00. If you will arrive or leave at other times, please let us know well in advance.