Holmen Husky Lodge 15 Km Dogsled Trip
Address: Holmen 100, 9518 Alta
Show map
Address: Holmen 100, 9518 Alta

Come to Alta, Europe's dogsledding capital -- we host the 1100+ km Finnmarksløpet race every year -- take a ride on your own sled, and discover the fun and excitement of traveling by dog power!
We will bring you to our farm from Alta, make sure you are properly outfitted and instructed on how to control the sled, and then you're off on your ride through the nearby forest. The morning tour will give you the best views in the arctic day; while the afternoon tour gives you the exhilaration of traveling through a twilight or nighttime forest.

Afterwards, you'll meet in our lavvo tent for hot drinks and fun conversation about raising and racing husky dogs. And of course, there will be some extra time to visit and take pictures of your new four-legged friends, before returning to Alta again.

The tour includes:
- Transport from and to Alta city center
- Thermal suits if needed for weather
- Proper instruction on handling the dogsled
- The tour, approx. 15 km, traveling with guides from Holmen Husky Lodge
- Hot drinks (coffee or blackcurrant) and conversation afterwards
Show more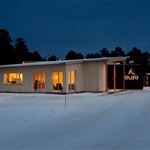 Rooms and apartments
Distance: 239 meters
The new and modern apartment is ideal for anyone who would prefer quiet and peaceful days in the pine forest in the countryside rather than staying in the town centre. You can relax and unwind in a peaceful setting where life and the time keep the same pace.
Hotel
Distance: 3.9 km
Scandic Alta is a modern full service hotel in the center of Alta.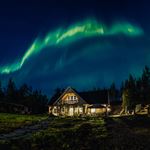 Motel and Guesthouse
Distance: 5.1 km
Do you want to stay somewhere out of the ordinary? Here you have the opportunity. In september 2014 a brand new buliding was finished at our place. Here you`ll find a nice dining room and a cozy bed & breakfast. We have two spacious family rooms for rent (total 6 - 8 persons). Own bathroom for both rooms. We serve organic and homemade breakfast.