Halddetoppen & The Northern Lights Observatory
Date: Tuesday 15 sep 2020 - Friday 2 Oct 2020
Show map
This is a fresh hike to the top of Haldde (904 m above sea level) where the scientist Christian Birkeland started building the world's first Northern Lights observatory in 1899.
The easily recognisable appearance and interesting history combine to make Halddetoppen – or "Sukkertoppen"as Birkeland called it – one of Alta's most prominent peaks. The historic buildings on the summit, which are now partially restored, add an extra dimension.

June – After being picked up and driving for less than 30 minutes to Kåfjord, we reach the starting point for our hike.

We start hiking along a good gravel road. This becomes a narrow former horse-drawn carriage when we get above the treeline, while the final part is relatively rocky and steep.

We estimate the roughly 8 km hike to the summit will take about three hours, but the time we use will depend on the shape of the participants and the conditions/weather. Although this is a relatively long hike, many school-age children make it to the top. Wear good hiking boots and bring extra clothes (sweater, hat, gloves and long trousers). As we approach the summit, there can be a fresh breeze and it can be a lot colder than when we set off!

We have the key, so we can go inside the historic buildings to have a look. Depending on the weather, we can eat lunch inside or outside while we enjoy the magnificent panoramic views in all directions.

Two days tour
It's also possible to make the hike up Haldde into a two-day trip. On such trips, we stay overnight at the Northern Lights observatory on the summit and on the second day continue over another peak, Talviktoppen, where Birkeland also erected research buildings. The two-day hike ends in the Vassbotn Valley in Talvik, where we will be picked up. We will be accompanied by polar dogs with packsaddles who will help carry the sleeping bags, equipment, food and drink, etc.
Show more
Book now - choose start date and product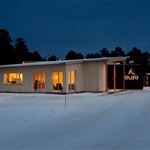 Rooms and apartments
Distance: 0 meters
The new and modern apartment is ideal for anyone who would prefer quiet and peaceful days in the pine forest in the countryside rather than staying in the town centre. You can relax and unwind in a peaceful setting where life and the time keep the same pace.
Hotel
Distance: 3.6 km
Scandic Alta is a modern full service hotel in the center of Alta.
Cabin
Distance: 0 meters
Turn your accommodation into an adventure! In our stylish Aurora Dome, you are so close to nature that you hear the squirrels and small birds outside and even see them through the big window.