Dog sleighing under the Northern lighs
Address: Killiveien 93, 9518 Alta
Date: Tuesday 1 dec 2020 - Thursday 1 Apr 2021
Show map
Address: Killiveien 93, 9518 Alta

Are you looking for Things to do in alta? Your best chance to see the northern lights in Alta is to be out under the night sky as often as you can. This tour takes you outdoor for an exciting husky adventure.
We pick you up in Alta and bring you out to our farm in the nearby countryside. From there, you will head out to our neighbor farm. Now it's time to say hi to your huskies for the night, you will be a part of setting up your own team of dogs. Your ride will take you through the forest and along the Alta River, through spectacular scenery all around. We will stop and switch drivers halfway. Near the end of the ride, you will arrive at a wilderness shelter and meet our guests from the horse sleigh ride, then take a break. A late appetizer, dinner and desert will be served around the fire for an amazing 3 course meal, protected from the weather by the shelter's half-wall. Along with conversation and local stories, if the conditions are right you might even have a chance to take a few pictures of the aurora in the sky! Then it's back to the farm for your return trip to Alta.

Included: Sleigh ride; 3 course meal; time to watch for the northern lights. Transport from and back to Alta free of charge
Duration: Approx. 4 hours
Show more
Book now - choose start date and product
Cabin
Distance: 1.7 km
Turn your accommodation into an adventure! In our stylish Aurora Dome, you are so close to nature that you hear the squirrels and small birds outside and even see them through the big window.
Hotel
Distance: 3.9 km
Stengelsegården is one of three fish lodges located along the Alta River, and the only one with road access. These walls are full of history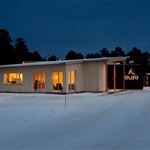 Rooms and apartments
Distance: 1.7 km
The new and modern apartment is ideal for anyone who would prefer quiet and peaceful days in the pine forest in the countryside rather than staying in the town centre. You can relax and unwind in a peaceful setting where life and the time keep the same pace.