Snowmobile hunt for the Northern Lights
Show map
Join us and experience the splendour of the Northern lights! We travel up into the mountains on snowmobiles, and hope we will be able to spot the Northern Lights.
From Gargia mountain lodge we travel up into the mountains south of Alta. The journey is done using snowmobiles, and you will be driving your own snowmobile. A thorough safety and driving instruction will be given before start. The location is perfect for enjoying the Northern lights, far away from the light polution of the city. We can not guarantee seeing the Northern lights, but we can promise a great nature experience under the polar night sky.
Show more
Hotel
Distance: 755 meters
Scandic Alta is a modern full service hotel in the center of Alta.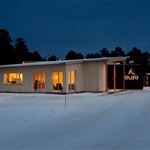 Rooms and apartments
Distance: 3.1 km
The new and modern apartment is ideal for anyone who would prefer quiet and peaceful days in the pine forest in the countryside rather than staying in the town centre. You can relax and unwind in a peaceful setting where life and the time keep the same pace.
Cabin
Distance: 3.1 km
Turn your accommodation into an adventure! In our stylish Aurora Dome, you are so close to nature that you hear the squirrels and small birds outside and even see them through the big window.