Address: Kirkenes

Picturesque and lively small community with shops, a post office and school approx. 95 km west of Kirkenes.
The village is one of the few places in the municipality that were not burnt down in WWII. The village has therefore preserved its Finnish architecture from the migrant days in the 1800s. Many of the inhabitants still speak the old Finnish language. This is the municipality's only fishing village and one of the places in Norwegian Lapland where they fish for king crab. Pleym Quay depicts the old coastal culture in Bugøynes. Lassigården is a merchant's quarters from 1850.
Ranvika nesting cliff, approx. 90 min. walk from Bugøynes. The trail is marked.
Show more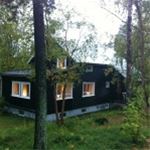 Motel and Guesthouse
Distance: 37.1 km
Cozy guesthouse with 7 rooms, connected to our husky kennel and two wilderness restaurants. Single, twin, double and family rooms available. All rooms are different and has its own character.