The river Altaelva is one of the world's best salmon rivers with fishing restrictions and allocation of fishing spots.
Fishing is primarily restricted to the local population, but others can also apply for spots in parts of the river. The river and its surroundings comprise an area of great natural beauty, with opportunities for campfires and barbeques along the riverbank.
Show more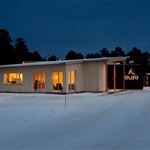 Rooms and apartments
Distance: 368 meters
The new and modern apartment is ideal for anyone who would prefer quiet and peaceful days in the pine forest in the countryside rather than staying in the town centre. You can relax and unwind in a peaceful setting where life and the time keep the same pace.
Cabin
Distance: 368 meters
Turn your accommodation into an adventure! In our stylish Aurora Dome, you are so close to nature that you hear the squirrels and small birds outside and even see them through the big window.
Hotel
Distance: 3.9 km
Scandic Alta is a modern full service hotel in the center of Alta.