Private Evening Tour, Hunting the Northern Lights (Up to 6 persons)
Date: Tuesday 15 sep 2020 - Monday 14 Mar 2022
Show map
Welcome to our private Northern Lights tour.
By private we mean that the minibus and guide services are at your private disposal. If you are travelling alone or with your spouse, family, friends or colleagues.
Unlike our public tour, other people cannot sign up to fill the remaining seats. You pay for all the seats in the minibus regardless of the size of your group.

The actual tour
After picking up from your hotel, we head straight to GLØD headquarters for a briefing. If desirable, we will also serve the Soup of the Night. If you need some warmer clothes, we can arrange this too. It's also possible to arrange a briefing at another place if preferable.

After the briefing, wet set off on our Northern Lights hunt!

To optimize our chances of experiencing the Northern Lights, we head to areas with little or no light pollution. We travel by minibus in search of an area with starry sky and good views.

If the weather conditions in Alta are poor, we head elsewhere. This may mean a drive of 200 km, either along the coast, fjords or in the inland of Finnmark. We make regular stops to check the conditions and, if conditions permit, to take photos. Then we happily continue in search of new, exciting and nice locations, either to find new photo subjects or – if the conditions are challenging – to find clear weather.

We will serve snacks and hot chocolate during the trip.
Northern Lights photos
The guides have experience with various cameras and will help you to adjust the settings on your camera. Please note that some compact cameras are not suitable for taking good photos of the Northern Lights. However, the guide has good photographic equipment and will take photos along the way. These photos will be made available to the tour participants. You will also receive a free photo of yourself with the Northern Lights behind.

Booking
Booking is easy. You can book your tour via the online booking system you will find on this page. In such cases, choose 1 under quantity. You pay for all the seats on the minibus and have six places available.
If your group is larger (e.g. family, friends or colleagues), we can accomplish this by using a larger bus and several guides. In such cases, please contact us directly and we can make the necessary adjustments.
What's included
Pick up, if required
Flexibility in relation to the start and finish time
Soup of the night
Guided hunt for the Northern Lights
Hot chocolate/coffee/tea and snacks
Insulated thermo suit and overshoes if necessary
Assistance with your camera settings so you can take photos of the Northern Lights

Photo of yourself with the Northern Lights behind (taken by the guide)
Pick up
From your hotel or any preferred location at 7pm
(from 15 March at 8pm)
Duration: 4.5 – 6 hours


Show more
Book now - choose start date and product
About this activity
Opening hours

Pick up From your hotel or any preferred location at 7pm (from 15 March at 8pm) Duration: 4.5 – 6 hours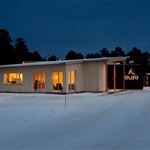 Rooms and apartments
Distance: 3.6 km
The new and modern apartment is ideal for anyone who would prefer quiet and peaceful days in the pine forest in the countryside rather than staying in the town centre. You can relax and unwind in a peaceful setting where life and the time keep the same pace.
Cabin
Distance: 3.6 km
Turn your accommodation into an adventure! In our stylish Aurora Dome, you are so close to nature that you hear the squirrels and small birds outside and even see them through the big window.
Hotel
Distance: 915 meters
Scandic Alta is a modern full service hotel in the center of Alta.