Alta Quartzite Slate at Pæskatun
Show map
Come to Pæskatun and see an old industry in modern times! Slate products have been crafted in Alta since the 1800s, and the practice today is still similar to the old-fashioned ways. Learn about the history of the slate workers in Alta.
See how slate workers use old and new slate-cutting and splitting techniques, and how they shape the slate with scissors. Afterwards it's your turn to try your hand at making your own slate souvenir. Be the first person on Earth to touch a 700-million year old rock surface!

Duration: 2.5 hours
Minimum 2 persons
Show more
Hotel
Distance: 936 meters
Scandic Alta is a modern full service hotel in the center of Alta.
Cabin
Distance: 4 km
Turn your accommodation into an adventure! In our stylish Aurora Dome, you are so close to nature that you hear the squirrels and small birds outside and even see them through the big window.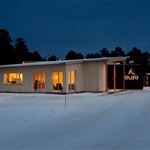 Rooms and apartments
Distance: 4 km
The new and modern apartment is ideal for anyone who would prefer quiet and peaceful days in the pine forest in the countryside rather than staying in the town centre. You can relax and unwind in a peaceful setting where life and the time keep the same pace.