HUNTING THE NORTHERN LIGHTS - EVENING WALK
Address: Løkkeveien 19, 9510 Alta
Show map
Address: Løkkeveien 19, 9510 Alta

NORD EKSPEDISJON: Alta has been named City of the Nortern Lights. On this trip we will take you from the city center and down towards the fjord and to our camp. Here you will have a great wiev over the Alta fjord and verry little artificial lights from the town.
Alta has been named City of the Northern Lights, and for good reasons. The city is located just below the Aurora Borealis Oval, and because we have an inland climate and ofte clear weather, Alta is the perfect destination for experiencing the amazing green flames on the night sky.

We start the trip from the Northern Light Cathedral and you will get a short brief about Alta. After the breif we will leave the city center and head down towards the fjord, where it all started. We can track the Northern Lights researche in Alta all the way back to 1838 and the Frenche "Le Reserche" expedition, who went ashore here in Bossekop, Alta. We will se if we can recognize the area from some old pictures from this expedition.

This trip will end up by our fireplace near the sea where we will enjoy the silence of the arctic and have varm drinks and snacks. Hopefully the weather is cleare and we will spot the wonderful Northern Lights. Total distance of walking will be about 4 km.

Included in the price:
- Professional guide
- Local history
- Warm drinks and snacks

We can not guarantee northern lights on our tours. Here in the arctic it is nature and weather that determines, as it has been doing for thousands of years. Our guide will nevertheless give you a memorable and informative evening.

For more information check out our homepage: www.nordekspedisjon.no
Show more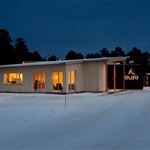 Rooms and apartments
Distance: 3.8 km
The new and modern apartment is ideal for anyone who would prefer quiet and peaceful days in the pine forest in the countryside rather than staying in the town centre. You can relax and unwind in a peaceful setting where life and the time keep the same pace.
Hotel
Distance: 286 meters
Scandic Alta is a modern full service hotel in the center of Alta.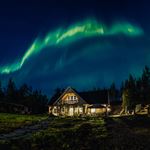 Motel and Guesthouse
Distance: 9.2 km
Do you want to stay somewhere out of the ordinary? Here you have the opportunity. In september 2014 a brand new buliding was finished at our place. Here you`ll find a nice dining room and a cozy bed & breakfast. We have two spacious family rooms for rent (total 6 - 8 persons). Own bathroom for both rooms. We serve organic and homemade breakfast.