HUNTING THE NORTHERN LIGHTS - BY CAR
Adresse: Løkkeveien 19, 9510 Alta
Vis kart
Adresse: Løkkeveien 19, 9510 Alta

NORD EKSPEDISJON: This tour is all about Northern Lights hunting and you'll spend the almost 4 hours finding the best location for Aurora viewing.
This  tour is all about Northern Lights hunting and you'll spend the almost 4 hours finding the best location for Aurora viewing. We start the trip in BorealisAlta, an immersive Northern Lights Experience. BorealisAlta is an Northern Light attraction packed with information to engage visitors, the exhibit includes fun, interactive areas to help bring the phenomenon to life. Visitors can sing or wave to the northern lights – something that was strictly warned against in ancient myths. This will be the perfect start to our own northern light hunt. ( Check out www.borealisalta.no )

After an informative start on the evening we will head out in our comfortable Highline Mulitvan. We can't tell you beforehand where this tour takes you other than that we will follow the weather forecast and drive away from the city to a location where there's total darkness. If the sky is clear, you might be lucky enough to see a spectacular Northern Light blaze on the night sky.

This Northern Lights tour takes you out of Alta city centre, far from the city lights to observe this fascinating natural phenomenon. We search for the Northern Lights by heading to secluded areas only accessible by car and local knowledge. Groups are small and private, with 2-6 guests + guide

Included in the price:
- Professional guide
- Local history
- Enterance Fee BorealisAlta exhibition
- A comfortable and safe ride in our VW Highline 4WD Multivan
- Warm drinks and snacks

We can not guarantee northern lights on our tours. Here in the arctic it is nature and weather that determines, as it has been doing for thousands of years. Our guide will nevertheless give you a memorable and informative evening.

For more information: check out our homepage www.nordekspedisjon.no
Vis mer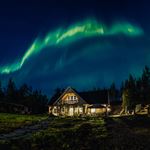 Motell og Pensjonat
Avstand: 9,2 km
Har du lyst til å overnatte et sted uten om det vanlige? Her har du muligheten. Vi bor i skogkanten bare 500 meter fra Altaelva og 10 km fra Alta sentrum. Her er fine turmuligheter rett ut i fra døra både til fots, på sykkel eller på ski.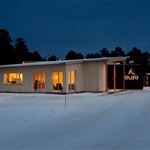 Rom og Leilighet
Avstand: 3,8 km
Vår nye og moderne leilighet er et tilbud til de som ikke ønsker å bo i bysentrum, men som foretrekker stille og rolige dager i furuskogen på landet. Her kan oppholdet nytes på lav puls – der livet og tiden holder samme fart. Frokost er inkludert.
Hotell
Avstand: 286 meter
Hotellet er perfekt for deg som vil oppleve den spektakulære norske naturen på nært hold. Med møte- og konferansekapasitet for 650 deltakere og tilgang til svømmebasseng og badstu kan du kombinere forretning og fritid.