HUNTING THE NORTHERN LIGHTS - EVENING WALK
Adresse: Løkkeveien 19, 9510 Alta
Vis kart
Adresse: Løkkeveien 19, 9510 Alta

NORD EKSPEDISJON: Alta has been named City of the Nortern Lights. On this trip we will take you from the city center and down towards the fjord and to our camp. Here you will have a great wiev over the Alta fjord and verry little artificial lights from the town.
Alta has been named City of the Northern Lights, and for good reasons. The city is located just below the Aurora Borealis Oval, and because we have an inland climate and ofte clear weather, Alta is the perfect destination for experiencing the amazing green flames on the night sky.

We start the trip from the Northern Light Cathedral and you will get a short brief about Alta. After the breif we will leave the city center and head down towards the fjord, where it all started. We can track the Northern Lights researche in Alta all the way back to 1838 and the Frenche "Le Reserche" expedition, who went ashore here in Bossekop, Alta. We will se if we can recognize the area from some old pictures from this expedition.

This trip will end up by our fireplace near the sea where we will enjoy the silence of the arctic and have varm drinks and snacks. Hopefully the weather is cleare and we will spot the wonderful Northern Lights. Total distance of walking will be about 4 km.

Included in the price:
- Professional guide
- Local history
- Warm drinks and snacks

We can not guarantee northern lights on our tours. Here in the arctic it is nature and weather that determines, as it has been doing for thousands of years. Our guide will nevertheless give you a memorable and informative evening.

For more information check out our homepage: www.nordekspedisjon.no
Vis mer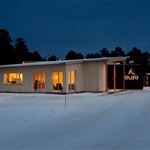 Rom og Leilighet
Avstand: 3,8 km
Vår nye og moderne leilighet er et tilbud til de som ikke ønsker å bo i bysentrum, men som foretrekker stille og rolige dager i furuskogen på landet. Her kan oppholdet nytes på lav puls – der livet og tiden holder samme fart. Frokost er inkludert.
Hotell
Avstand: 286 meter
Hotellet er perfekt for deg som vil oppleve den spektakulære norske naturen på nært hold. Med møte- og konferansekapasitet for 650 deltakere og tilgang til svømmebasseng og badstu kan du kombinere forretning og fritid.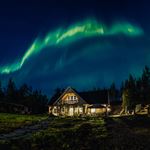 Motell og Pensjonat
Avstand: 9,2 km
Har du lyst til å overnatte et sted uten om det vanlige? Her har du muligheten. Vi bor i skogkanten bare 500 meter fra Altaelva og 10 km fra Alta sentrum. Her er fine turmuligheter rett ut i fra døra både til fots, på sykkel eller på ski.