Quadbike Eventyr
Adresse: 9770 Mehamn
Vis kart
Adresse: 9770 Mehamn

Driving Quad in some of the most spectacular areas of Finnmark, the northernmost region of Norway. ATV trails that crosses breathtaking panoramas you cannot even imagine. Fishing for Brown Trout and Arctic Char in the most remote lakes of Finnmark.
With the fishing rods packed on the Quad Bike, we are driving partly on narrow roads, mountain roads and along the typical Norwegian fjords. Daylight 24 hours because of the midnight sun at this time of the year.

Overnight at the new comfortable Adventure Camp Mehamn, living in comfortable waterfront fishermen`s cottages built on the seawater!

Sleeping in Sami tent camp on comfortable army beds during the fishing.

We will be followed by a service car with transport trailer for transferring Quads and luggage to the Quad Bike trails on the days we are away from the Adventure Camp.

Explore high mountains, deep canyons, and crystal clear blue arctic sea water while you are driving along the typical Norwegian fjords. Enjoy gastronomic adventures based on local products and food traditions.

All these exciting adventures are presented and guided by Vidar the Viking, local Norwegian guide, who is living at Mehamn, the northernmost fishing village in the world.


 Day 1  

Arrival at Mehamn Airport (MEH)

Welcome at airport by the guide from Nordic Safari.

Transferring you to Adventure Camp Mehamn.

Checking in at waterfront Fishermen's cottages built on the sea water.

Light meal in the restaurant. 

Listening information on the next days' program.

Overnight.



Day 2

The Arctic Mountain Trout Lake 


Breakfast in Adventure camp Restaurant

Dressing up in warm Quad Bike driving clothes and boots. (Included from Nordic Safari) Listening to Quad Bike safety and driving instructions. Starting out from the Adventure Camp Mehamn.

Transfer Quads by trailer and minivan to the mountain trail starting point.

Driving along the stony mountain track, passing hundreds of reindeers and small fishing lakes. After 18 kilometres we stop and make the base camp by the fishing lake.

Our guide will give instructions on how to fish the trout and arctic char in these lakes.

Fly Fishing rods with flies, spinners, lures and live bait.

We split into teams of two and two persons, walking and fishing round the lakes. Walking over the hill to the next lake, fishing during the summer night. Returning to the base camp for dinner around the campfire. After dinner we go to sleep in the comfortable Sami tents. Sleeping in sleeping bags on comfortable army tent beds.

After some hours of sleep, we enjoy the outdoor breakfast. For the one day tour we are packing the gear down at loading the quad bikes.


Continuing the fishing for one or two nights more. Recommended.


We recommend to fish for two nights to avoid bad weather conditions and a more relaxed fishing.

Driving quad bike back to the main road, loading quads back on the trailer. Driving back to the Adventure Camp, refuelling Quads at Mehamn Gasoline station and parking the Quad Bikes outside the cottage. Taking sauna and shower.

Dinner at our seafood restaurant. Overnight in single rooms.


Welcome to a great fishing adventure!

Tight lines! 
Vis mer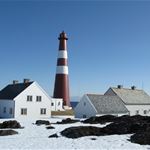 Overnatting
Avstand: 14,6 km
Verdens nordligste fastlandsfyr ble bygget i 1905, ødelagt i -44 og gjenreist i 1945-48. Beliggende på en vidåpen kystslette mellom Barentshavet og fjellene, er Slettnes et fascinerende sted å besøke for alle som vil oppleve historie, flora og fauna i et landskap der naturkreftene rår.
Hytter
Avstand: 19,2 km
Davvi Siida tilbyr overnatting i 2 hytter med kapasitet opp til 3 og 5 personer. Begge hyttene ligger i et naturskjønt område, og er fullt utrustet med kjøkkenutstyr, kjøleskap, dusj og toalett.