Restaurant - Trasti & Trine
Address: Gargiaveien 29, 9518 Alta
Show map
Address: Gargiaveien 29, 9518 Alta

Fine dining in Finnmark
Our restaurant serves local and organic food of outstanding quality.
Book a table via email post@trastiogtrine.no or telephone +47 919 00 460.
Bakery
Early risers may notice the smoke rising from one of the smallest buildings in the yard. This means that Trasti is up early and has fired up the stone oven in the bakery. How about a whole grain sourdough bread, a crispy croissant or perhaps a loaf of bread with birch sap or juniper berries? Everything is organic and straight from the oven. The bakery shop is open a couple of times a week. Follow us on Facebook (Trasti & Trine AS) for news and opening times.

Outdoor café and market
Head to Trasti & Trine for your weekend café visit!? Our outdoor café is open every second weekend throughout the summer. You can enjoy lunch and delicious cakes from our bakery. Naturally, everything is completely fresh and most is organic and locally produced. You can enjoy your cup of coffee by the fireplace or perhaps in the Gamma if the Finnmark summer is too cool for your liking. Visit our kennel if you wish or take a closer look at our garden. Welcome!
In 2017 our outdoor café is open every second Saturday and Sunday (even numbered weeks) from 12.00 to 17.00 (12 noon to 5pm).
Johnny Trasti!
Trasti is the brain, hand and heart responsible for most of the taste experiences at Trasti & Trine. More than 30 years in the kitchen have given him plenty of experience, knowledge and insight. Nevertheless, he's still searching for the perfect meal with the best fresh produce and flavour combinations.

I have worked as a cook/chef my whole life. Since 2005 I have worked with local food in Finnmark. I have been able to create food from the world's purest and best produce, which has grown and lived on the mountain plateau, in the sea and the surrounding forests, and has a unique history and flavour. I wish to convey this to our guests through experiences, culinary courses and dinners here at Trasti & Trine.
Show more
Motel and Guesthouse
Distance: 30 meters
Do you want to stay somewhere out of the ordinary? Here you have the opportunity. In september 2014 a brand new buliding was finished at our place. Here you`ll find a nice dining room and a cozy bed & breakfast. We have two spacious family rooms for rent (total 6 - 8 persons). Own bathroom for both rooms. We serve organic and homemade breakfast.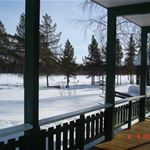 Hotel
Distance: 435 meters
Stengelsegården is one of three fish lodges located along the Alta River, and the only one with road access. These walls are full of history
Hotel
Distance: 3.6 km
Feel the silence in the hotel made of ice and snow. Explore the contrast between staying in the cold, while the cozy sleeping bag keeps you nice and warm during the whole night! Feel the silence and serenity surrounding you.